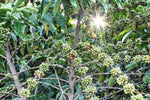 The History of Coffee - A Short Story Coffee is just about everywhere nowadays and with good reason, it's one of the best drinks on the planet! But where did coffee come from and how did humans discover what is currently the third most consumed drink in the world? What is Coffee? What is Coffee made of? Coffee itself are seeds within the coffee comes in the form of little green  cherry berries on coffee trees that turn to red berries when ripe. This is the point when the coffee cherries beans are harvested and the coffee seeds, that we...
---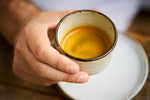 These are the hands that have made me coffee these last 19 years. The quality wasn't always this beautiful elixir you currently see in the mug. We started with instant coffee and thought nothing of it. We'd never tried anything else, and life was working pretty great as it was. It was only when a friend gifted us with a bag of ground proper coffee that we first fell in love with something that instant could not replace. Our world suddenly became a little more expensive, sweeter and of course, healthier. As the years progressed we learned more. All these...
---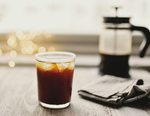 Cold brew's rich, indulgent flavours come without the guilt of over-indulgence as it does not leave those calories of regret lingering on your body. Rather, it leaves you with that drive to want to continue to show up to life, even when life is uncertain. It is not a magic potion, but there is something so pure about it as it comes to you straight from mother nature.  And this simple drink, made with thought and time, is worth a part of our new lives in this season of home. Most of us have generally only indulged in this pleasure...