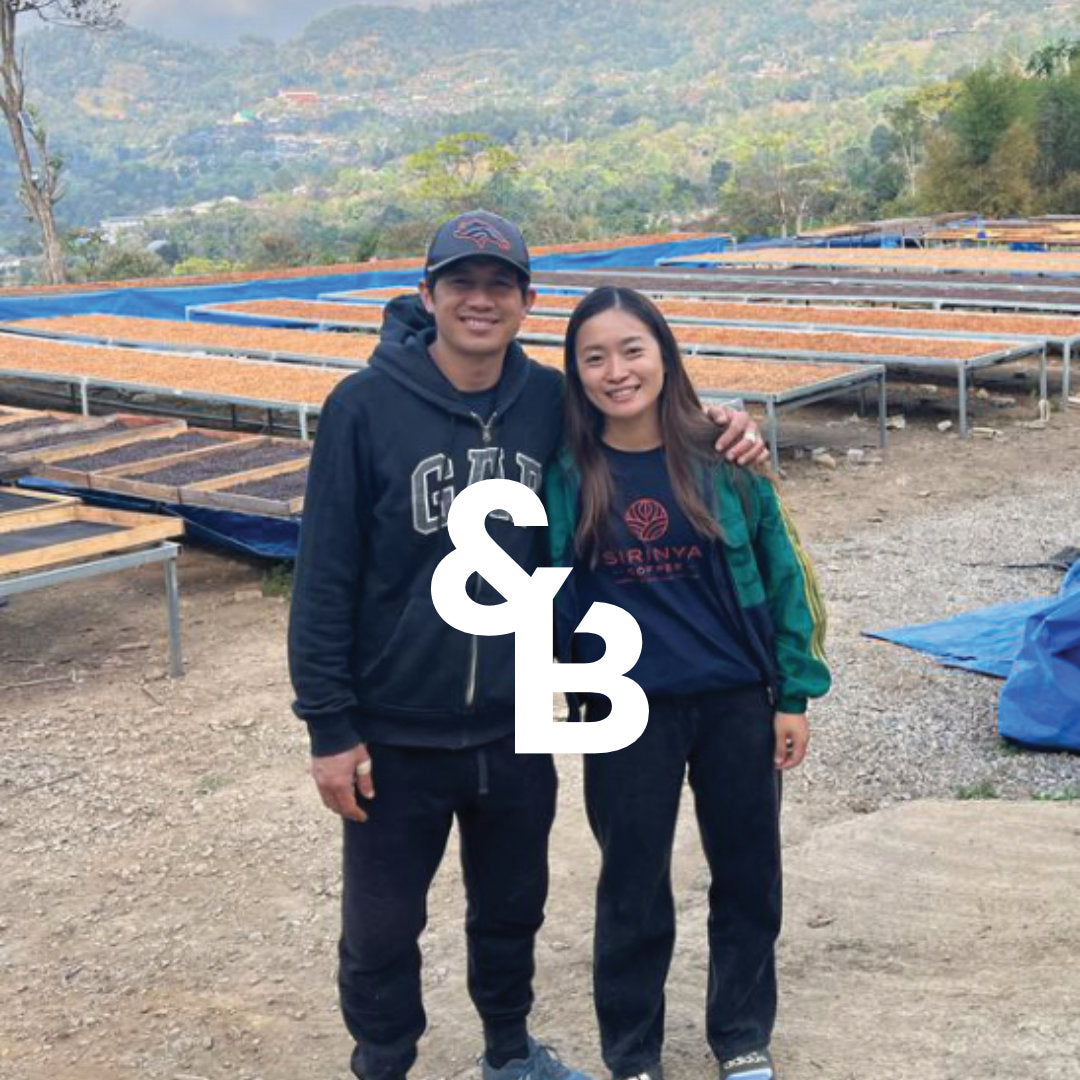 Thailand Sirinya Mossto
Regular price
£59.00
/
Tax included.
Shipping
calculated at checkout.
---
In stock, ready to ship

Inventory on the way
Thailand Sirinya Mossto
Goh and Oye are the proud owners of Sirinya Coffee Farm, a roastery, and shop in Chiang Rai province. They are an exemplary couple who look after many in the Doi Chang communities. For the past decade, they have been striving to bring sustainable farming practices to the regional farms and actively work to address human migration and trafficking issues in their community.
Our connection with Goh and Oye began in 2015. We first visited the farm before they had built their processing station and we journeyed with them through the process. This has not been an easy ride for them, navigating unbelievable struggles to get to where they are. We have wanted to bring this coffee to you since those very early days and finally the day has come when their coffee can now be enjoyed in the UK. 
We are sure you will love this coffee as much as we do!
Coffee Facts
Farmers / Producer - Sirinya Coffee Farm
Agro method - Shade-grown
Region: Doi Chiang, Chiang Rai
Altitude - 1450m above sea level
Variety - Bourbon, Caturra Catimor
Process Type - Anaerobic Natural
Flavour notes

This will depend slightly on the method of brewing, so please refer to our flavour map image for our general flavour description. 

As a pour-over (using a V60 or home filter machine) you'll taste a complex array of fruits and herbs with a clear note of black tea. The body is very smooth and full. There are also some black olive, cherry, green apple, and pear flavours that come through particularly when the grind is on the finer side. Overall this is a rich creamy coffee that is very different from its counterpart Anaerobic Honey from the same farm.

As an espresso, we recommend dosing the shot as much as you can! The fruits, herbal notes, and tea-like notes make for a very sophisticated espresso that really is moreish. This also can be a good match with oat milk or nut milk alternatives but we recommend this espresso with good old cow's milk.
Thailand Coffee History

Coffee has been grown commercially in Thailand for a relatively short period of time – only really since the early 1960s.  It mainly took off in the late '70s when the late King Bhumibol Adulyadej (Rama IX) championed the growing of coffee as a potential alternative crop to opium (the Arabica growing regions in the Greater Mekong correspond fairly closely to the notorious Golden Triangle). This policy of 'alternative development' (the current UN term) can be seen to be the key driver behind Thailand becoming an Arabica coffee-growing country. It's also been a remarkably successful policy – between 1998 and 2006, opium production here fell by more than 80%. 
More recently, the production of coffee in the north is also seen as a valuable weapon in the fight against deforestation – Thailand has lost nearly 50% of its forests in the last 30 years. Naturally shade-grown coffee can be a vital element of permaculture with more and more farmers beginning to plant native trees at the same time as coffee plants. Coffee cultivation has had a profound effect on this part of Thailand, providing long-term, sustainable, and safe livelihoods for thousands of farmers, helping the environment, and in recent years producing specialty lots that are enjoyed by the booming domestic specialty coffee scene.
Most of the coffee grown in Thailand is robusta, grown in the southern states while arabica is grown in the northern highlands, specifically the provinces of Chiang Mai and Chiang Rai as well as to a lesser extent in Nan, Mae Hong Song, and Lampang. The people who call this area their home are part of an intense ethnic and cultural mix of, predominantly, hill tribes (or 'highland Thais', or Chao Khao). The main groupings are Akha, Karen, Lahu, Tien, Mien, and Hmong (among many others).
The Process

This Coffee is an Anaerobic Natural 'Mossto' process which is also referred to as a Film Yeast Fermentation process method.
Cherries are floated before undergoing anaerobic fermentation inside plastic barrels mixed with local yeast until the PH is about 3.5-4.0. This helps control the level of microbes rather than standard honey processing techniques. The cherry is then moved to outdoor drying racks to be sun-dried until the moisture content reaches around 15 - 20% before moving inside to a temperature-controlled drying station for slow drying until moisture reaches 10-12%.
Brew Recommendations 
V60 pour-over
Espresso - a double shot of 19g dry weight to 38-42g wet weight shot.